As dog owners, we love our furry friends unconditionally. They are loyal, smart and can light up a room with just one stare. As they grow, they can start infringing on your space, particularly your bed space. You may need a kennel to ease this transition from sleeping on your bed.
A lot of doghouses would look surprisingly odd in your house. With increasing demand for indoor ones, manufacturers have developed amazing kennels that can also serve as home furniture appliances. These include end tables and nightstands. Below are some fabulous picks for crates for your pet that would fit seamlessly well in your living space.
The 5 Top-Rated Dog Crate Furniture
*Ratings and price may change*


This product doubles as a furniture piece and a kennel. It is made from solid wood and is perfect for family spaces with a pet.
Features
Available in 3 sizes – S, M, L
It serves as a dog house and a furniture piece.
It is made to provide a cozy environment for your dog
The door can be completely open for easy pet access
The furniture is easy to clean
Great wood finish but is suitable for non-chewers
The periphery is large enough to accommodate a variety of sizes.
Color- Dark Brown
This decorative piece is an ideal item for any house that also comfortably houses your canine friend. It is made from solid wood and metal wire side panels to improve longevity.
Features
This furniture piece can be used as; a kennel, end table, side table, and nightstand.
This kennel has two entry and exit points for easy accessibility.
Its top is wide enough to be used for placing things like decorative lamps and potted plants
Has a great wood finish and is wired to enhance its durability
Comes with a padded removable bed for your pet.
The kennel is suitable for non-chewers
Features
Available in Medium and Large
Removable plastic tray to protect its floor
Solid wood veneer cover
The paraphernalia serves as a bed and a piece of furniture at the same time.
It also serves as a gate and can be used to open spaces and is suitable for non-chewers
Easy to assemble, no tools needed.
This beautifully made solid wood cage is a perfect fit for living spaces. It provides a cozy spot for dogs top relax.
Features
Secure lockable latch
The piece can double as a furniture piece and a dog house. The top part allows for storage of other materials.
The wood is sourced from entirely sustainable materials and is high-quality to increase durability.
Wood made to construct it is chew-resistant
The cage has enough slats to allow proper ventilation.
Color-Espresso
24-inch size fits up to 40 pounds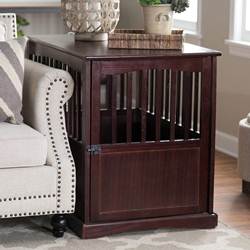 Features
Size- Large ( 36.5L x 24W x 29.25H inches) and color- Dark Brown
Constructed using 100% solid wood but is recommended for non-chewers
Doubles as an end table and crate or kennel
Has door latch to secure
This product is manufactured by a family owned business that aims at creating high-end products for the pet owners. All their products are aesthetically pleasing yet functional.
Features
Available in two sizes and finishes so you can choose according to your preference. Colors are mahogany and espresso.
It is built using hardwood construction that is durable
The piece has a swing-through door that can be pushed inside to prevent obstruction
The floor is constructed using melamine to avoid the absorption of liquids, therefore, making cleaning easier.
Stainless steel safety latches to confirm your pet safely.
It is constructed from rubberwood to enhance durability.
The kennel has multiple openings to allow sufficient ventilation inside.
The crate is a furniture piece that doubles as an end table and an animal house.
The product provides glide feet to prevent markings on your floor.
This piece aims at securely and comfortably housing your furry friend without disturbing the harmony of your home.
Features
Doubles as an end table
Color-Grey Finish
Metal sides to promote longevity
Constructed using 100% solid wood with a great finish
Contains a sturdy latch to provide enough security
Comes with four-floor protectors
This piece is suitable as a canine house, a decorative part and comprises a side table.
Features
Solid wood veneer & construction of metal rods
Weight Capacity of the top of the crate: 300 pounds
Easy to assemble
It can be used as a nightstand or an end table due to its magnificent design.
This crate is relatively large than the ones mentioned above. It can easily fit medium or large canine without having any issue.
Features
Uses as a pet house and a decorative table
It is made of high-quality solid wood and is ideal for medium or large pets
The crate has a door latch to enhance security
Pet crate end table has a ventilation system for maximum comfort.
Dimension: 27.5 L x 20 W x 24.5 H inches
This cage is ideal for larger ones but can also be used by smaller ones.
Features
The spacious interior provides maximum comfort for your four-legged companion.
It features a sturdy lockable gate to enclose your pet without worrying you
The piece has a fantastic wooden finish to allow it to complement your living space
It has a dual door which can also serve as a lockable gate
It doubles as a kennel and a household furniture piece.
This piece is light, easy to assemble and highly recommended for non-chewers
Conclusion
When buying an indoor kennel, it is essential to select one that will blend in well with your other household pieces and appliances without overeating space. They combine convenience with functionality and at the same time provide utmost comfort to your furry friends. The above products are directly available, and I would recommend purchasing them.
Single & Double Door Dog Crates by New World
Dog crate covers